Art Supplies Wholesale Gift Certificate

They make the perfect gift for any artist young or old, beginner or professional. We ship the gift certficate along with our latest catalogue!
---
Starting At $29.95
Flexibility to Create

Introducing Prismacolor's Brush Fine Art Marker!


Prismacolor Manga Pen Sets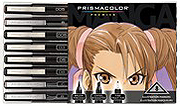 SALE!!
Prismacolor fine line marker in a Manga set.
---